'Chefcore' is the a la mode restaurant-inspired style you'll actually want to wear | Fashion
There's a trend bubbling up in restaurant kitchens, and this time it's got nothing to do with small plates. "Chefcore", as coined by the menswear writer Clayton Chambers, has chefs ditching their traditional formal whites for a more casual aesthetic.
For a long time, no one cared what chefs wore, either inside or outside the kitchen. However, thanks to TV shows such as The Bear – where Carmy's (Jeremy Allen White) perfect white T-shirt gained a cult following and (spoiler alert!) he gives protege Sydney a custom Thom Browne chef's jacket – customers are as keen to know the brand of clothes a chef is wearing as they are the specials.
Look around your favourite eatery and you're likely to spot that stiff, long-sleeved jackets have been replaced by Carmy-esque biceps-grazing T-shirts while torque hats have been ousted by baseball caps.
It's a trend that is heating up in front of the pass, too. London's celebrated nose-to-tail restaurant St John recently swapped its front-of-house formal whites for laid-back corduroy tailoring, teaming up with the Savile Row tailor Drake's on a clothing collection.
At Osip, a farm-to-table restaurant in Somerset, the team are clad in soft oversized shirts and loosely tailored trousers from Studio Nicholson. Meanwhile, from next month, the wait staff at Sessions Arts Club in London will sport a reimagined "non-uniform uniform" featuring a collarless shirt jacket and flowy cotton shirt dress by the design studio Toogood, with prints by the painter Jonny Gent.
The public being served these looks are just as keen on the aesthetic themselves. Former kitchen essentials such as louche chef pants and Birkenstock clogs have been appropriated by the street-style set, who have come to love its relaxed and comfortable aesthetic. Nolan White, a TikToker who posts about menswear, for one, recommends Cookman chef pants. His main takeaway? The casual fit designed for chefs to easily move around in is also perfect for skateboarding.
"Chefs and food in general have had a bit of a renaissance in recent years," says Whyte Rushen, the ex Brat and Scully chef who runs cult food pop-ups. "Ninety-nine percent of the work-from-home crew you see walking their dogs in Stoke Newington are gonna have a pair of Birkenstocks on and they definitely aren't on their way to their double shift at Perilla," he says, referencing the restaurant in north London.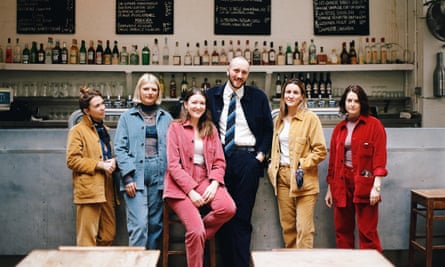 Rushen is part of a new generation of chefs who have swapped the gruelling hours of a professional kitchen to forage lucrative solo careers on their own terms. And social media is key to their success, with many racking up hundreds of thousands of followers as they share viral recipes on TikTok. That, in turn, has affected the clothes they wear. Filming from their own kitchens, it's more natural to wear a baggy T-shirt than an immaculate starched apron. Unsurprisingly, this way of dressing has come to infiltrate neighbourhood restaurants.
Open kitchens and chef's tables are also playing a part as the boundaries between chefs and customers become ever more blurred. Then there's a move towards less formal dining, with menus scrawled on chalkboards and natural wines served in tumblers: in such an environment, it is much less jarring to spot a chef in a beanie than a toque.
A string of new brands, many by those with a culinary background, are catering to this less prescriptive way of dressing, and designing for a more diverse audience.
Labels such as Tilit in the US, which offers cuts for men and women, spanning XS to XXL, stand out from the traditional "boys club", and have gained a loyal customer base.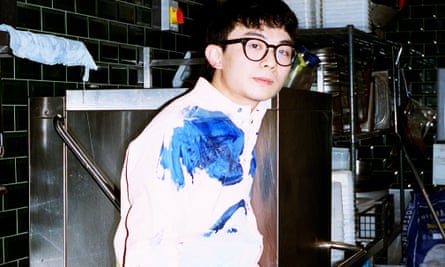 Service Works in London, meanwhile, creates a range of workwear including chore jackets and straight-leg chef trousers. Its bestseller is its classic chef pants which retail from £59, come in muted colours, not comical black-and-white checks, and have adjustable drawstring waistbands and fatigue-style front pockets. "Comfort and breathability were the qualities I missed most when working in kitchens, so they are what we focus on," says founder Tom Chaundley, who describes wearing traditional chef trousers, which were "too long, with super-tight ankle openings", as making him feel "like a toddler with a full nappy".
The brand – whose tagline is "designed for chefs adapted for all" – is stocked by Merci in Paris, loved by cooks including Jeremy Lee of Quo Vadis, but it's also proved popular among those whose cooking skills may only go so far as microwaving a ready-meal.
While people might be looking to chefs for fashion inspiration, don't necessarily expect all staff to be following the same trends. While St John's uniform might have had somewhat of a make-under, co-founder Trevor Gulliver isn't planning to provide it to the kitchen staff. "It's sweaty, it's hot – it's not a fashion environment," Gulliver says. "We are not a display kitchen."
For many there are also practical concerns to wearing more fashion-forward clothing: chef whites can endure a lot more washing and often have flame-resistant coatings. Which might be why Rushen would also stick to conventional chefs whites if he were in a restaurant kitchen. "But as I've mainly been doing pop-ups and collabs for the past few years, I might well bust a little tracksuit or some Carhartt bits. Whatever's clean and comfortable really, I ain't too fussed."
To read the complete version of this newsletter – complete with this week's trending topics in The Measure and your wardrobe dilemmas solved – subscribe to receive Fashion Statement in your inbox every Thursday.
link