Susanne Kaufmann didn't set out to create a skincare brand; it just happened. In 1850, Kaufmann's great-great-grandfather opened Hotel Post Bezau and it's been in the family ever since. (The hotel is now run by Kaufmann.) Situated amongst the rolling hills and chiseled peaks in Austria's Bregenzerwald region, the hotel gives guests the chance to escape, slow down, and rejuvenate. The food is sourced from the hotel's garden or local farmers in the area; there's a spa where visitors can choose from a plethora of body and facial treatments; and there are a countless number activities on the property, ranging from hikes to tennis to group yoga.
Kaufmann decided to develop her own organic beauty products in 2003 when she realized that the product range stocked in the spa didn't reflect the hotel's ethos. The first product was a hydrating shampoo. After creating 23 more products to be stocked in the spa, people started to ask where they could buy the product. Then, after a feature in Vogue Germany, buzz around the brand grew to a level that was impossible for Kaufmann to tune out. Today, Kaufmann oversees the manufacturing of hundreds of products, made in a factory 15 minutes away from the hotel and shipped all over the world. She lives across the street from the hotel and you'll most likely find her on the front patio, saying hello to her neighbors who stroll past, or chatting with guests in the dining room.
Similar to the hotel, Kaufmann's skincare line is rooted in local tradition and the beauty and wellness benefits found in nature. The product lineup is infused with locally-sourced, botanical ingredients and delivered to the customer in sleek, modern packaging. However, scaling a beauty brand is more difficult than ever before given the industry's over-saturation. It can be a challenge to evolve and expand while staying true to the brand identity. So, how has Susanne Kaufmann been able to do it?
Employees at Susanne Kaufmann's packaging site.
Photos: Courtesy of Ama Kwarteng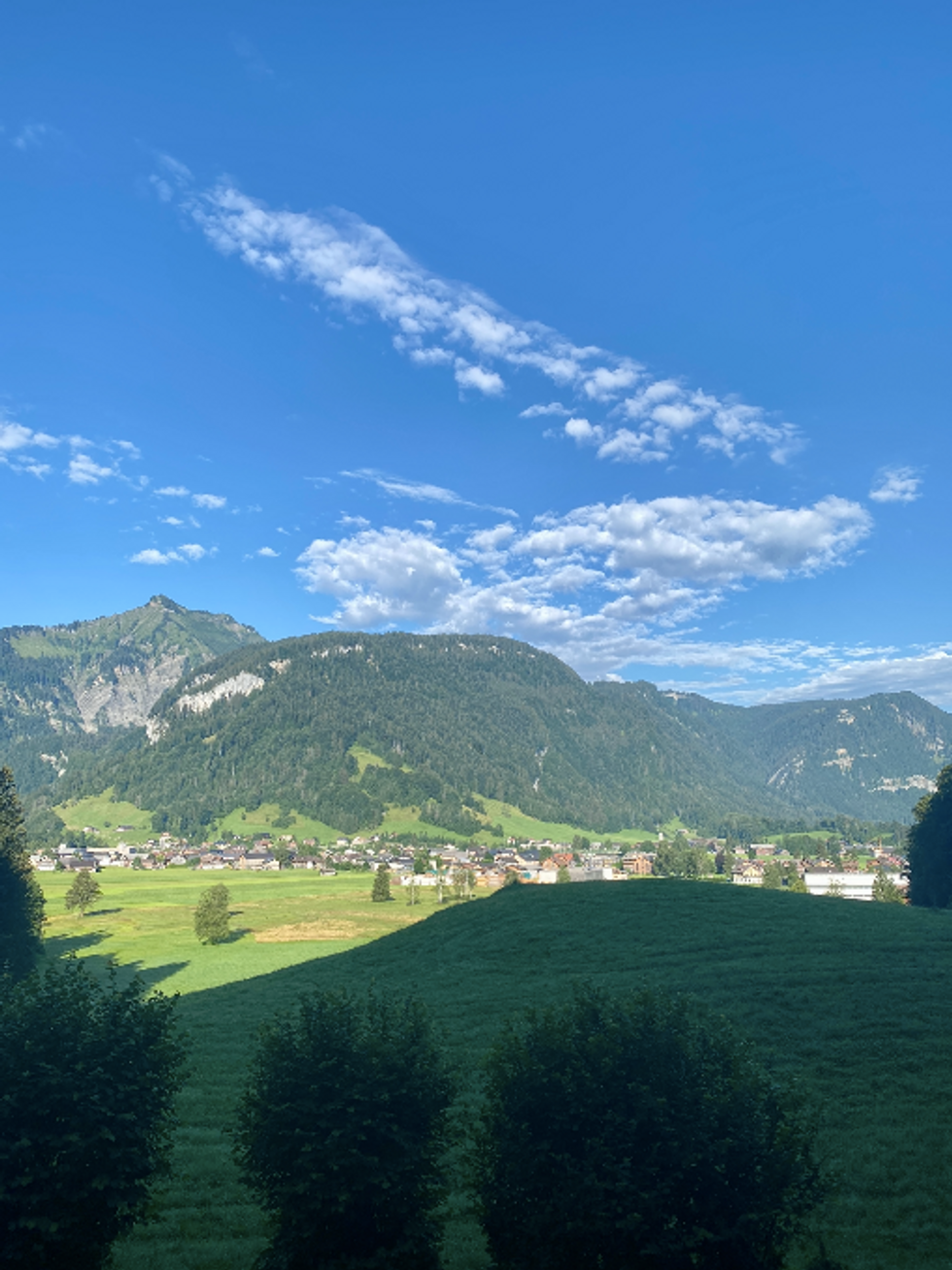 View of the Austrian Alps from Hotel Post Bezau.
An Emphasis on Community
Because Kaufmann's brand sources and produces their products locally, she has a close relationship with her suppliers and manufacturers—something that isn't common amongst other small brands. "[Our team] challenges [our manufacturing partners] and pushes them to meet our expectations, but it's a close partnership," says Kaufmann. Kaufmann and her team will bring an idea to the suppliers, like an airless bottle made from recycled glass, and ask, "How can we make this happen?" As the brand expands, their partners continue to accommodate them. For example, when Kaufmann's production site became too small to keep up with growing demand, the owner built a new one. "It can be difficult for everyone, but they're willing to work with us," Kaufmann says. "We know them so well and that shared sense of culture also creates a strong collective bond. It's just how we interact with each other here. It's a village; we know each other and we take care of each other."
An Authentic Approach to Product Launches
While some brands succumb to the pressure to remain relevant through constantly churning out products, Kaufmann prefers to create with intention, which means she avoids launching products based on market trends in order to maintain the brand's core values. Instead, Kaufmann is inspired by her lifestyle, experts who work in her spa, and customers. For example, the idea for an eye serum came to Kaufmann while on a trip to New York City. "I was going from one [press] appointment to another and I thought, it would be so nice to have something simple to freshen up your under-eye area during the day. The decision to launch a product today is similar to Kaufmann's decision to launch the brand all those years ago: there's a need for it. It's rooted in intention and observation rather than a focus on what's new and trendy.
Kaufmann's approach to skincare places an emphasis on consistency and achieving results over the long haul. The line also focuses on healing, nourishment, and hydration rather than a quick fix. The brand's goal isn't to alter someone's appearance; it's to infuse the skin with science-backed, natural ingredients that work in tandem; the ingredients are meant to support the skin's natural functions so it can look and feel its best, whatever that means to you.
A Commitment to Sustainability
For Kaufmann, sustainability is an all-encompassing term that has helped guide the brand since the very beginning and it extends beyond the materials used to package products. The brand's entire production site is powered by solar and thermal energy. On sunnier days, the excess energy that is generated but not used is stocked inside underground pipes and stored for the next production day. The water sourced for products comes from a spring in the Bregenzerwald behind the production center that's collected then filtered through a unique water treatment system. The other plant and botanical ingredients, like rosemary and pine, are also sourced sustainability from the region's natural resources. By closing the distance between its ingredient sources and production facility, the brand is able to reduce its carbon footprint.
The majority of the packaging used is glass or recycled plastic, and it also has refillable products within its range. The caps and pumps are still made with virgin plastic because of European Union cosmetic safety laws. (It can be challenging to find high-quality, recycled plastic which doesn't compromise the efficacy of a formula.) However, Kaufmann is trying to push the government to change the law. "The efficacy and safety of a product is super important to us," says Marni Banks, the brand's head of global marketing. "So, it's about finding the most sustainable way to deliver the product to someone while still checking those two boxes. We believe that can be done with pumps and caps made from recycled plastic."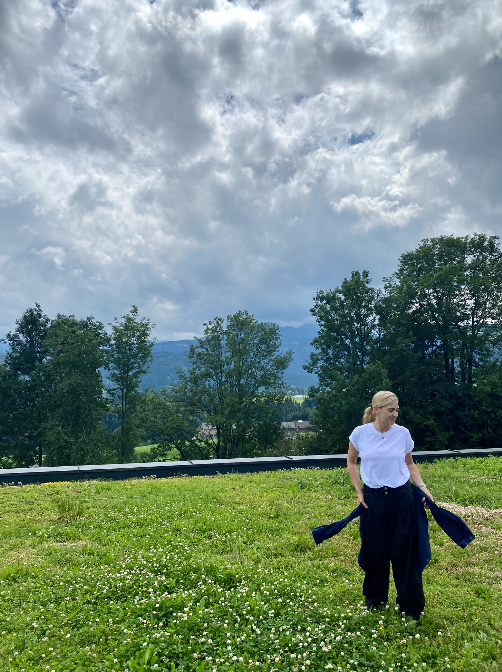 Susanne Kaufmann on site at the production center.
Photos: Courtesy of Ama Kwarteng
The solar panels at the brand's production facility.
Even whilst remaining true to their core values, the brand is always evolving. This past year, the brand reached the end of a two-year long process to refresh product branding and packaging. Rather than using virgin glass or plastic labels, words are printed directly onto the jars and bottles to ensure packaging can be recycled. The secondary packaging around the product is simpler and made from recycled cardboard. "When I started [the brand] 19 years ago, the beauty landscape was completely different. We didn't have access to the packaging or ingredients that we do now," says Kaufmann. "So two years ago, when we began the [brand] refresh, we checked every detail to figure out how we could make a better, more sustainable, more effective product."
She continues, "It's a process that'll never end. I think it's very important for us to do our very best. If there's a more effective ingredient out there or a more sustainable packaging material, we'll try to figure out how to incorporate it into the line. We use that mentality to drive the brand forward."
Shop Our Favorite Susanne Kaufmann Products:
Thanks to the botanical fruit acids in the formula, this peel works to improve the appearance of large pores, fine lines, and dark spots by gently exfoliating to reveal more even, glowing skin.
Susanne Kaufmann
The blend of antioxidants, plant extracts, and buckwheat in this day cream improves firmness and elasticity while also reducing inflammation—leaving you with a stronger, more moisturized skin barrier.
Susanne Kaufmann
If you're dealing with dull, dehydrated skin, this gentle yet powerful skincare set has everything you need to elevate your routine. It features a rose water mist and hyaluron serum to moisturize and rebalance skin, as well as a glow mask to help reduce the appearance of dark spots over time.
Susanne Kaufmann
Enhance your bath time ritual with this oil. The formula is infused with ylang ylang, patchouli, lavender, and rosemary to help alleviate stress and tension while also providing your skin with moisturizing benefits.
Susanne Kaufmann
Featuring a nourishing blend of honey, olive oil, and shea butter, this rich concoction is formulated to condition and smooth dry skin without being overly-oily.
Susanne Kaufmann
window.REBELMOUSE_ACTIVE_TASKS_QUEUE.push(function(){
var makeMonitor = (getStatus, cb, delay) => 100; var monitor = () => var time = +new Date(); var status = getStatus(); if (status) return cb(status); else if (!stopMonitor && +new Date() - time < 30 * 60 * 1000) monitorId = setTimeout(monitor, delay); else cb(false); , cancel = () => stopMonitor = true; clearInterval(monitorId); ; let monitorId, stopMonitor = false; return start: monitor, cancel: cancel, ; ;
var leftArrowCarrousel = makeMonitor( function () return document.querySelector( ".shop-sidebar.shop-posts .posts-wrapper .slick-next" ); , function (res) res.addEventListener("click", () => gtag("event", "Left Arrow Click", event_category: "Shopping Module", event_label: "Previous product at carrousel", ); );
);
leftArrowCarrousel.start();
var rightArrowCarrousel = makeMonitor( function () return document.querySelector( ".shop-sidebar.shop-posts .posts-wrapper .slick-prev" ); , function (res) res.addEventListener("click", () => gtag("event", "Right Arrow Click", event_category: "Shopping Module", event_label: "Next product at carrousel", ); );
);
rightArrowCarrousel.start();
var buyButton = makeMonitor( function () return document.querySelectorAll( ".shop-sidebar.shop-posts .posts-wrapper .widget__product-buy-link-btn" ); , function (res) { for (let button of res) button.addEventListener("click", () => gtag("event", "Buy button click", event_category: "Shopping Module", event_label: `$button["href"]`, ); );
} );
buyButton.start();
var imageShopp = makeMonitor( function () return document.querySelectorAll( ".shop-sidebar.shop-posts .posts-wrapper .widget__head a" ); , function (res) { for (let image of res) image.addEventListener("click", () => gtag("event", "Image click", event_category: "Shopping Module", event_label: `$image["href"]`, ); );
} );
imageShopp.start();
var productTitle = makeMonitor( function () return document.querySelectorAll( ".shop-sidebar.shop-posts .posts-wrapper .widget__headline .widget__headline-text" ); , function (res) { for (let product of res) product.addEventListener("click", () => gtag("event", "Product title click", event_category: "Shopping Module", event_label: `$product["href"]`, ); );
} );
productTitle.start();
});
window.REBELMOUSE_ACTIVE_TASKS_QUEUE.push(function()
window.REBELMOUSE_STDLIB.loadExternalScript("https://s.skimresources.com/js/150311X1615657.skimlinks.js", function()
);
);
window.REBELMOUSE_ACTIVE_TASKS_QUEUE.push(function()
let modDate = new Date (document.querySelector('.current--post .social-date-modified__text').textContent); let createDate = new Date (document.querySelector('.current--post .social-date__text').textContent); let m_names = new Array("January", "February", "March", "April", "May", "June", "July", "August", "September", "October", "November", "December");
function dateToMDY(inputDate) var d = inputDate.getDate(); var m = inputDate.getMonth(); var y = inputDate.getFullYear(); return '' + m_names[m] + ' ' + (d <= 9 ? '' + d : d) + ', ' + y ; document.querySelector('.current--post .social-date-modified__text').innerText = dateToMDY(modDate); document.querySelector('.current--post .social-date__text').innerText = dateToMDY(createDate); ); window.REBELMOUSE_ACTIVE_TASKS_QUEUE.push(function() !function(f,b,e,v,n,t,s)if(f.fbq)return;n=f.fbq=function()n.callMethod?n.callMethod.apply(n,arguments):n.queue.push(arguments);if(!f._fbq)f._fbq=n;n.push=n;n.loaded=!0;n.version='2.0';n.queue=[];t=b.createElement(e);t.async=!0;t.src=v;s=b.getElementsByTagName(e)[0];s.parentNode.insertBefore(t,s)(window, document,'script','https://connect.facebook.net/en_US/fbevents.js');fbq('init', '1248680838922690');fbq('track', 'PageView'); ); window.REBELMOUSE_ACTIVE_TASKS_QUEUE.push(function() window.REBELMOUSE_STDLIB.onElementInViewport( threshold: 400, selector: "video", oneTime: true, onIntersect: function(entry) var element = entry.target; element.setAttribute("allow","autoplay"); element.loop = true; element.muted = true; element.autoplay = true; element.setAttribute("playsinline","true"); //element.controls = false; element.play(); ); ); window.REBELMOUSE_ACTIVE_TASKS_QUEUE.push(function() let headings = document.evaluate("//p[contains(., 'Want more stories like this?')]", document, null, XPathResult.ANY_TYPE, null ); let thisHeading = headings.iterateNext(); console.log(thisHeading.textContent, 'head changed'); thisHeading.innerHTML = "More From Coveteur"; thisHeading.style.fontFamily= 'Playfair Display'; thisHeading.style.fontSize="24px";
);