Shopping for fashion and accessories? Choose brands that are environmentally conscious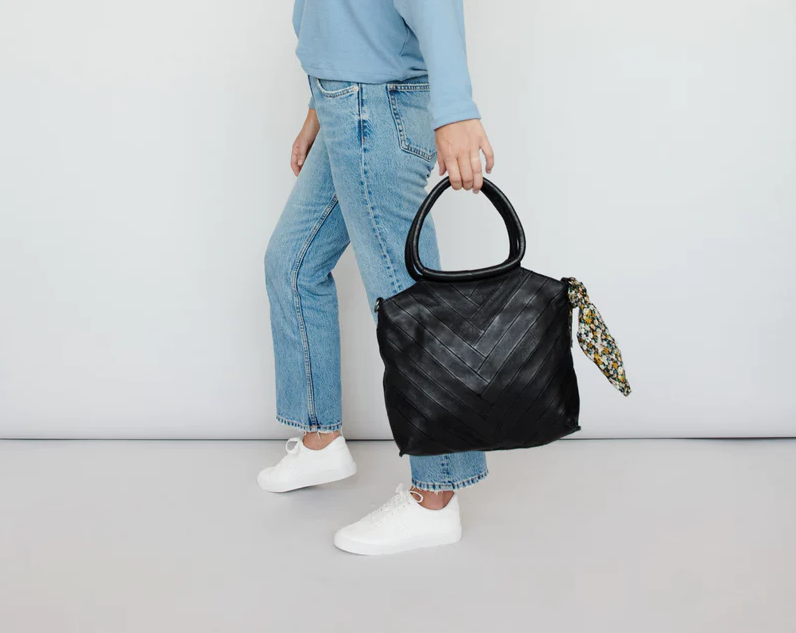 Here are a few things to add to your list the next time you're out shopping for clothes or accessories.
They are adjectives, not things: look for items that are high-quality, handmade and sustainable. If you're worried this might cost more, you'd be surprised. Many local companies are doing a great job of ticking all of these boxes—and at an affordable price point.
It can also help to understand the nuances between some of the marketing terms you'll come across, especially if you're shopping for leather goods, like women's handbags, purses, crossbody bags, totes and shoulder bags. While the adjectives commonly used to describe these products may sound interchangeable, behind them are some pretty significant differences.
"In the world of leather terminology, 'genuine leather' often signifies lower-quality leather, composed of the layers remaining after the top-grain layer is removed," explains Ben Schreiber, Head of Ecommerce, Latico Leathers. "While cost-effective, it typically lacks the durability and luxury associated with superior leather types."
'Authentic leather' lacks a standardized definition, but generally implies real leather (as opposed to synthetics) though the quality may vary, he warns.
"'Full-grain leather' stands as the pinnacle of quality, hailing from the top hide layer, retaining its natural grain. This results in a durable, breathable and aesthetically unique leather, adorned with charming markings and imperfections."
Sustainability + Latico
The global impact of leather production is huge. Some of the biggest concerns? Water use, deforestation, greenhouse gas emissions and labor conditions.
Latico Leathers is passionate about both environmental sustainability and giving back. "Our leathers are by-products of the meat and dairy industry that would otherwise go to waste," Schreiber explains. "Each Latico bag is handmade with love by talented artisans throughout South America and India."
The environmental impacts of fashion (and fast fashion, in particular) are significant, as many are coming to realize. According to Ontario Nature, the fashion industry accounts for up to 10% of global carbon dioxide output—this is greater than international flights and shipping combined. Since almost two-thirds of clothes and accessories are made from synthetic fibres, that means this one industry alone is responsible for one-fifth of the 300 million tonnes of plastic produced globally, which contributes to the releasing of chemicals into the environment that harm our ecosystems and pollute our water.
"Fashion and accessory brands should be sustainable and environmentally conscious to reduce their ecological footprint and social impact," says Schreiber. "It's essential to focus on environmental preservation, consumer demand, regulatory compliance and long-term viability to successfully achieve these goals."
The process of making sustainable leather prioritizes ethical and environmental considerations throughout, including sourcing, production and stitching. Latico's efforts include using eco-friendly tanning processes, recycling water, reducing waste and minimizing the use of harmful chemicals. They also source leather from responsible and certified suppliers that implement ethical labour practices.
Sustainably produced leather offers a reduced carbon footprint and less energy consumption. Learn more about sustainable leather.
Social equity
Social equity also plays a big role. The company is committed to ensuring that anyone involved in the supply chain is treated and paid fairly; this includes safe working conditions, living wages and the promotion of long-term growth and wellbeing.
Giving back
During the COVID-19 pandemic, the company began donating 10 meals to Feeding America for every purchase made on their website. "And now, thanks to our loyal and steadfast customers, we've donated over 100,000 meals since we began the initiative!" says Schreiber.
The company's priorities are clear and speak to its commitment. "We believe our full-grain leather, artisan craftsmanship, attention to detail, sustainability efforts and dedicated customer service set us apart from others. This is our 38th year in business—that speaks for itself!"
They even have a Latico Leathers Community on Facebook. It's just one more way we can all be more conscious consumers and show our support for responsibly produced goods. Says Schreiber, "It helps us understand and engage with our audience in a way most brands overlook, by interacting and building relationships with the people who make us proud to be Latico Leathers."
For stylish accessories made sustainably, visit Latico Leathers or follow them on Facebook or Instagram.

link