Article content
Vincent is a women's clothing store located in Little Italy. For the last seven years, during each change of season the shop will host a day where they do a donation drive for Dress for Success. When customers bring in their unneeded clothing, they are rewarded with a discount on a new purchase from the stunning boutique. "There are a lot of things that we just don't wear in our closets," said co-owner Amanda Papalia. "We wanted to get our customers to mindfully shop but give those gently used clothes to a great cause. That is where Dress for Success comes in."
Article content
Dress for Success Ottawa is all about empowering women and those who are gender nonconforming, giving them the clothes and tools they need to look great and thrive in their chosen profession. "Dress for Success Ottawa is a locally-based charity and part of an affiliate that is worldwide," said Alison Sochasky, the organization's development and programming manager. "We are able to connect and empower women to re-enter the workforce and really grow in their careers. In addition to the clothing component, there is the funding that is required to run services such as interview preparation, resume writing, career coaching, skills development and more."
The co-owners of Vincent are currently collecting women's clothing that will be taken to Toronto where Ukrainian refugees will be to select items that will work for them. "It really helps with closet cleansing but also helps two really great organizations," said Angie Cambareri, co-owner of Vincent. "We will be accepting more everyday pieces for the Ukrainian group," she added.
For more information, you can reach out to the sisters that co-own Vincent through their website www.shopvincent.ca. For more information on Dress for Success Ottawa, you can go to their website at https://ottawa.dressforsuccess.org.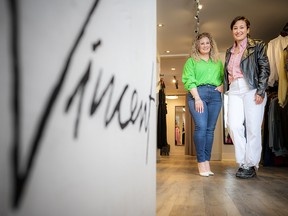 If you know of someone doing something exceptional to help, we would love to share their story. Please send details to [email protected] and we will be in touch.
To see more photos of Social Scene events, visit ottawacitizen.com/category/sponsored/social-scene.