Welcome to On Beauty, a series where we take a deep-dive look into one person's relationship to beauty, how that relationship has transformed over the years, and how they experience being seen. This week, we're talking to Vanessa Hong, a content creator and creative director based in New York City, about her childhood, her time living in Beijing, and why she tries to minimize her screen time.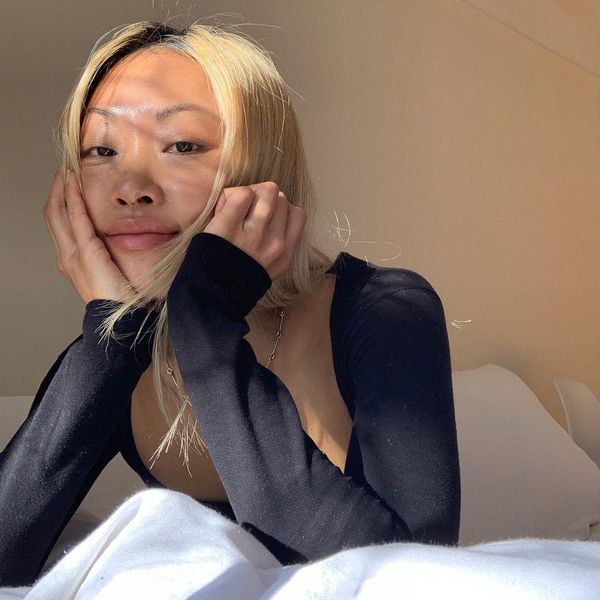 "People would ask how I got interested in fashion and I would always say, 'my mom.' Growing up I was surrounded by fashion because she loves it. We had magazines all the time but I never saw anyone who looked like me [in the pages]. I grew up in a neighborhood that was predominantly white, so all my girlfriends were white and makeup that would look great on them wouldn't necessarily translate to me. That being said, middle school was also really fun because that was the first time I started playing with makeup.
I would put on maybe a little bit of Covergirl blush to go to school. Since my mom was always obsessed with beauty and skin care, I would go through her beauty drawer. I just remember playing around with products and having no idea how to use any of it or really understanding how makeup can be transformative."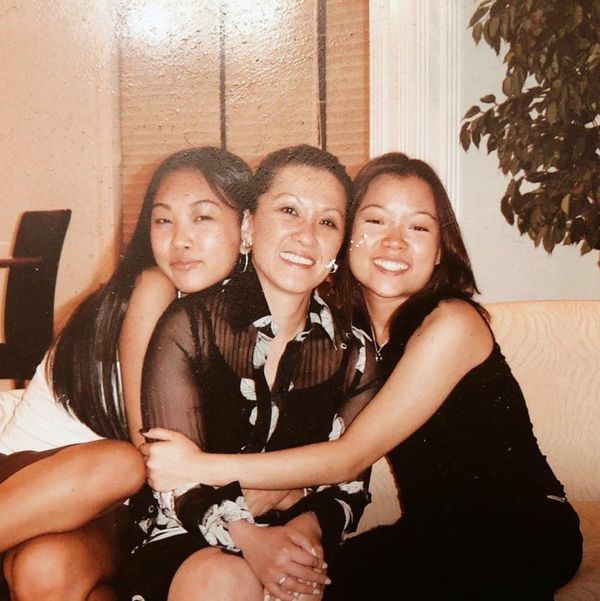 Vanessa and her family.
"Growing up in Canada, I was surrounded by other Asians, so I saw and recognized how Canadian and North American-born Asians dress themselves because it's very different. People always group us into a monolith as if Asians in North America translate to Asians on the mainland in China, for example, but the standards are extremely different. When I moved to China [in 2009], I thought I was going to go back and feel connected to my roots, but my first 24 hours there, I never felt more separated from them. I was a bit of an anomaly [in Beijing]. I felt like I didn't belong there, I didn't belong at home [in Canada]. I was a bit of an anomaly there.
"Living in China was not easy. Beijing is very polluted. You can't drink boiled water there. So living in Beijing, you have to be even more careful about what you put on your skin and what products you use. I noticed, growing up, that some of the things that my friends were using were literally burning my skin and that my mom was always so careful about what she put on her skin. But it wasn't until I got to Beijing where I started realizing that there are products specifically made for Asian skin.
"Chinese people are super blunt. When I visited my maternal grandmother in Hong Kong, the first thing she said to me after not seeing each other for ten years, she said 'I'm so glad you turned out beautiful and lighter-skinned than when you were born,' because I was darker as a child. The older I got, the lighter I got, but I'm still darker than most Asian people. There's this weird exoticization of Asians with darker skin, so when I was living in Beijing with expats, there was an overt sexualization of an Asian woman who was tan because that meant, in some way, that you were more sexual or promiscuous. It's really messed up. The fair girl is prized above a darker girl. It's a whole thing to unpack, but I've never dated an Asian guy in my life. I always saw them dating girls with very fair skin and pretty, dark hair. In many ways diametrically opposed to what I looked like as a teenager."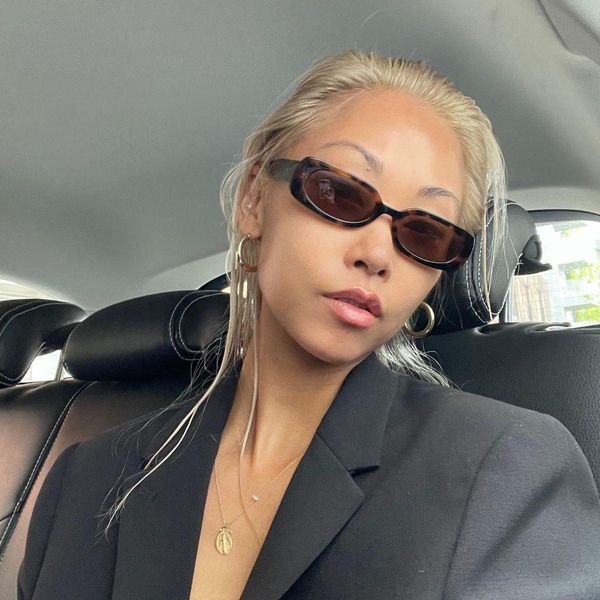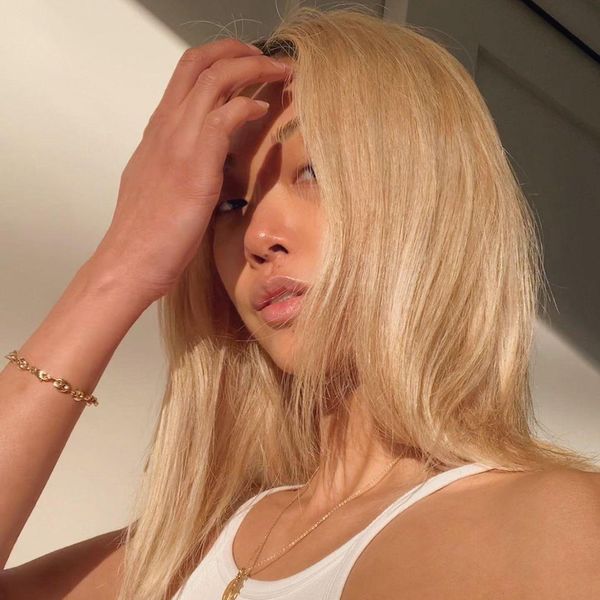 "I recently finished How to Write an Autobiographical Novel by Alexander Chee—I was so shook by the entire book. I'm still a little unhinged by it now. There was a part of the book where he's describing his family. His father said that he wears a suit every single time he gets on a plane because he gets treated better. He doesn't need to but he wants to do it. Even though he's an Ivy League-educated Korean-American man, he knew that the suit was, in a form, his way of protecting himself. It meant dealing with one less rude comment or having one less person talk down to you. Every time my mom left the house, even if she was running to the store, she would always have her eyebrows on and have her chic Donna Karan overcoat thrown over a sweatsuit and sneakers with a nice handbag. With fashion and beauty, I think how we dress ourselves and how we present ourselves to the world is how we arm ourselves and protect ourselves from being in situations we don't need to be put in.
"I've had bad facial and body dysmorphia since I started using social media. There was a Wall Street Journal article that talked about an internal Facebook report that contained data proving that body dysmorphia and facial dysmorphia happens very fast. You don't need to be on it for a super long time, nor do you have to be a big influencer.
"When Instagram first started, before the filters, Snapchat originally had all the filters and that's why a lot of people liked going on Snapchat to record videos and then import them to Instagram. But now, there's hundreds of face apps that are basically live FaceTune tools where you point the camera at yourself and you see an elevated version of yourself. It is interesting because we all know about 'Instagram Face,' where everyone has the same lips, the same eyes, and how it's ethno-ambiguous. It's hard not to be affected by that. Sometimes I'm like, 'Oh my god, do I need to get this done? Do I look weird here?' or 'Maybe it would be great to look like me in my filtered version.' That's something that I actively catch myself thinking while I'm using the platforms."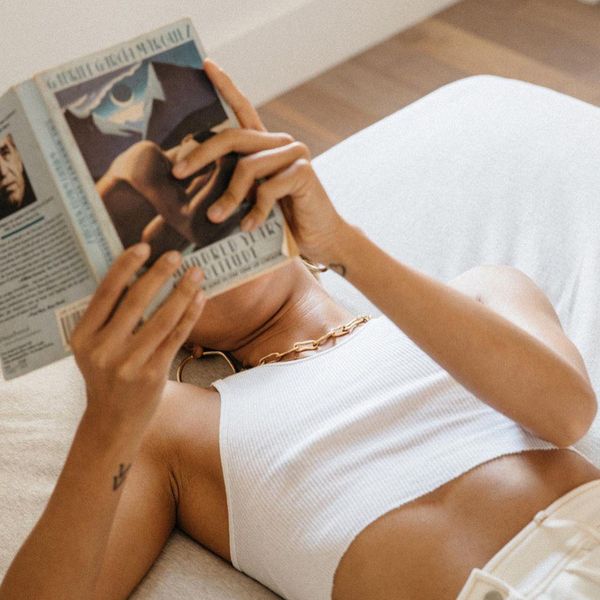 "Stepping away is one thing that's been helpful for me. It's hard because Instagram requires you to be on the platform constantly, whether you're posting or commenting on other people's content.
"It's really difficult when it's your job, but I always remind myself that this is better for me; the first job I had out of uni was a 9-to-5 job in biotech. I have the freedom to do what I want. I'm building my own brand, I'm doing everything I ever dreamed of, I'm meeting people I've always wanted to work with. So I've been learning how to mitigate that. Limiting screen time, stepping away from the phone, and having a really good circle of friends is important. I have a close inner circle where I can be vulnerable and have these open conversations. I feel really blessed to have people in my life who really see me."
window.REBELMOUSE_ACTIVE_TASKS_QUEUE.push(function(){
var makeMonitor = (getStatus, cb, delay) => ;
var leftArrowCarrousel = makeMonitor( function () return document.querySelector( ".shop-sidebar.shop-posts .posts-wrapper .slick-next" ); , function (res) res.addEventListener("click", () => gtag("event", "Left Arrow Click", event_category: "Shopping Module", event_label: "Previous product at carrousel", ); );
);
leftArrowCarrousel.start();
var rightArrowCarrousel = makeMonitor( function () return document.querySelector( ".shop-sidebar.shop-posts .posts-wrapper .slick-prev" ); , function (res) res.addEventListener("click", () => gtag("event", "Right Arrow Click", event_category: "Shopping Module", event_label: "Next product at carrousel", ); );
);
rightArrowCarrousel.start();
var buyButton = makeMonitor( function () return document.querySelectorAll( ".shop-sidebar.shop-posts .posts-wrapper .widget__product-buy-link-btn" ); , function (res) { for (let button of res) button.addEventListener("click", () => gtag("event", "Buy button click", event_category: "Shopping Module", event_label: `$button["href"]`, ); );
} );
buyButton.start();
var imageShopp = makeMonitor( function () return document.querySelectorAll( ".shop-sidebar.shop-posts .posts-wrapper .widget__head a" ); , function (res) { for (let image of res) image.addEventListener("click", () => gtag("event", "Image click", event_category: "Shopping Module", event_label: `$image["href"]`, ); );
} );
imageShopp.start();
var productTitle = makeMonitor( function () return document.querySelectorAll( ".shop-sidebar.shop-posts .posts-wrapper .widget__headline .widget__headline-text" ); , function (res) { for (let product of res) product.addEventListener("click", () => gtag("event", "Product title click", event_category: "Shopping Module", event_label: `$product["href"]`, ); );
} );
productTitle.start();
});
window.REBELMOUSE_ACTIVE_TASKS_QUEUE.push(function()
window.REBELMOUSE_STDLIB.loadExternalScript("https://s.skimresources.com/js/150311X1615657.skimlinks.js", function()
);
);
window.REBELMOUSE_ACTIVE_TASKS_QUEUE.push(function()
!function(f,b,e,v,n,t,s)if(f.fbq)return;n=f.fbq=function()n.callMethod?n.callMethod.apply(n,arguments):n.queue.push(arguments);if(!f._fbq)f._fbq=n;n.push=n;n.loaded=!0;n.version='2.0';n.queue=[];t=b.createElement(e);t.async=!0;t.src=v;s=b.getElementsByTagName(e)[0];s.parentNode.insertBefore(t,s)(window, document,'script','https://connect.facebook.net/en_US/fbevents.js');fbq('init', '1248680838922690');fbq('track', 'PageView');
);
window.REBELMOUSE_ACTIVE_TASKS_QUEUE.push(function()
window.REBELMOUSE_STDLIB.onElementInViewport( threshold: 400, selector: "video", oneTime: true, onIntersect: function(entry) var element = entry.target; element.setAttribute("allow","autoplay"); element.loop = true; element.muted = true; element.autoplay = true; element.setAttribute("playsinline","true"); //element.controls = false; element.play();
);
);